As COVID-19 continues to impact communities, many healthcare organizations are open and seeing patients. To support the safety of patients and staff, those organizations need to use new tools and strategies to support social distancing. One strategy that is becoming popular is to eliminate the in-office waiting room and ask patients to "park & text" or wait outside and text. This process is easy to set up and support. Here are several tips to make it effective.
Let patients know upon scheduling that your waiting room is closed and they should wait outside—ideally in a line that is marked for social distancing—or in their car. They should text on arrival.
Include pre-visit instructions in appointment reminders that patients should wait outside or in their car and text on arrival.
If patients don't confirm appointments, consider reaching out via two-way text to confirm and remind them to text on arrival.
Put a sign up on the entrance reminding patients to text upon arrival and wait outside or in their car.
Once patients text, if you are checking temperatures or doing a pre-screening, have a staff member go out to the car to perform that check.
When the provider is ready to see the patient, text the patient to come in.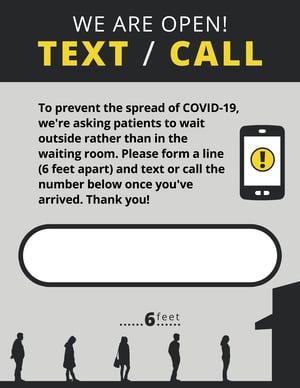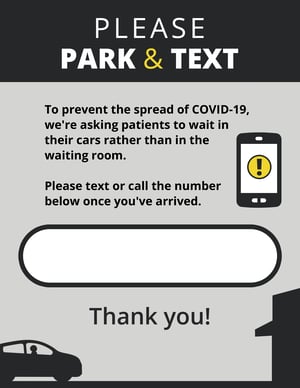 To further support social distancing and remove other activities that can spread germs, consider adding digital intake forms with a COVID pre-screening form and a mobile bill pay option for collecting co-pays before appointments and other due amounts afterwards. That way patients can have additional screening and no one has to pass around clipboards or devices during the appointment.
You can print or download this article as a pdf handout to share with your staff.