Just because HIMSS2020 was cancelled doesn't mean you can't get some great education. This session was planned for HIMSS and now being offered as a free webinar instead.
AI & Patient Experience: A Balancing Act
Wednesday, March 18
9 AM PT / 12 PM ET
Healthcare organizations must recognize a key difference between patients and "consumers." That difference is the unique relationship people have with their healthcare providers. While patients do want consumer-like conveniences and personalization, hospitals and health systems must strike the right balance between technology and human interaction to ensure patients feel valued as individuals.
During this webinar,
Kevin Pawl, Senior Director of Patient Access at Boston Children's Hospital and Nagi Prabhu, Chief Product Officer at Solutionreach,
will invite attendees to examine how to integrate AI into patient communication in ways that enhance and personalize the patient experience. By sharing challenges and opportunities identified at Boston Children's, they will help attendees develop communication and access strategies that strengthen the patient/provider relationship. After attending this session, you'll be able to:
Evaluate the role of AI-powered patient communication technologies in improving patient access and experience
Identify change management strategies to build staff and patient confidence in an AI-driven patient communication strategy
Develop patient and family communication technology strategies that strengthen the patient/provider relationship
Assess AI technology use cases that help address patients' communication access and experience needs
About the Speakers:
Kevin Pawl is the Senior Director of Patient Access at Boston Children's Hospital. He is responsible for improving the patient, family, and referring-provider experience when accessing services. In his current role, significant accomplishments have been made including the creation of a business intelligence tool, which provides transparency to key access metrics, as well as enterprise-wide access standards that help align both hospital and physician delivered services. Mr. Pawl is an experienced leader with almost 30 years of increasingly high-level responsibilities. He started his career at Boston Children's in 1989 and has held several positions within the hospital. He has been a lecturer and consultant at healthcare events and national meetings on patient access, practice operations, and organizational culture. He is a Fellow of the Medical Group Management Association, holds certifications in Lean Process Improvement, and is certified with the American College of Medical Practice Executives. He holds a Master of Science in Leadership from Northeastern University.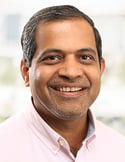 Nagi Prabhu is the chief product officer at Solutionreach, where he oversees product strategy, product management, and product marketing functions. Prabhu has 19 years of experience leading SaaS product management and engineering teams building innovative, market-leading SaaS enterprise software products in the areas of customer relationship management (CRM), contract lifecycle management (CLM), Enterprise Mobility Management (EMM), Quote-to-Cash (Q2C) etc. In his career as a technology leader, he has led several innovations in the areas of AI, Machine Learning, and Natural Language Processing (NLP). Prior to joining the Solutionreach team, Prabhu served as CPO at Icertis, where he led the strategy and product management of the company's enterprise contract lifecycle management platform. Previously, he also held leadership positions at Apttus, CA Technologies, and RealPage. He is also an advisor to MyAlly.ai, an AI/NLP-powered, source-to-contract talent lifecycle management software platform. Prabhu earned a bachelor of engineering in computer science from Bangalore University.