As patients take on more responsibility for their medical bills, they are more often approaching healthcare decisions with a retail-oriented mindset. It's no longer enough to provide high-quality care or for providers to rely on clinical excellence. Today, patients want convenience, access to their providers outside of the office, and outstanding service in every aspect of their care.
The Patient-Provider Relationship Study examines this dynamic across generational preferences, when liking and trusting your doctor is no longer enough. Armed with data that can easily be accessed with a mobile device, patients consider many factors when deciding where to spend their healthcare dollars—and communication before, during, and after care plays a big role in the decision-making process. While communication preferences vary by generation, it's clear that a variety of communication touchpoints are needed to meet patients' needs and expectations—and that the generational preferences are closer together than you might guess.
There has long been a myth that baby boomers have less interest in technology or aren't tech savvy. This study blows that idea out of the water.
Baby boomers, the largest consumers of healthcare services, spend two to three times more on care than millennials. While they are more loyal to providers than younger generations, that seems to be shifting. One in four has recently left a provider and one in five say that they might. Providers may be taking for granted that the loyalty but boomers expectations are changing like everyone else's.
Boomers want a personal connection with their healthcare providers, but they also want more accces san convenience and digital services like text. Less than half of baby boomers are completely satisfied with their providers across specialties. They are frustrated about poor communication, lack of customer service, and impersonal care.
Like Gen X and millennials, baby boomers do want many digital services. Mostly importantly, they want the option to get messages via text and send messages to providers with text. Text messaging is the number one app used on smartphones and boomers are the fastest growing smartphone users. The majoroity of patients say they want to message back and forth with providers via text as seen in this graphic: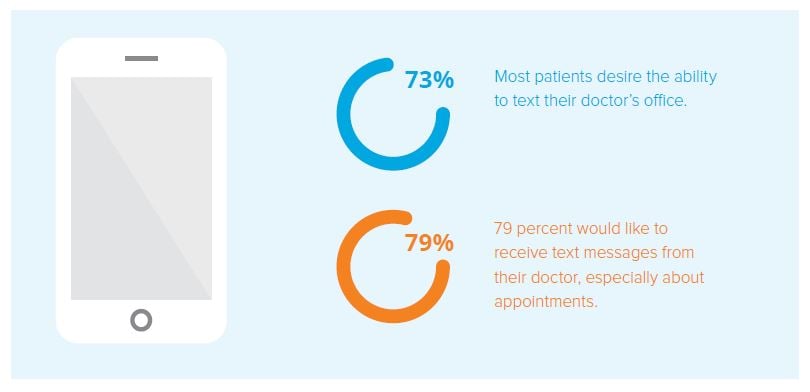 While patients are different than traditional consumers, they do want consumer convenience. This study, and others, show that. And they show that the generations don't differ that much in what they expect today from healthcare. For more insights on the what patients want, download the full white paper, The Patient Provider Relationship Study.