An AI Checklist for Success
Half of all hospital administrators expect to invest in AI by 2020. And 90 percent are confident they will see a return on investment (ROI) from these AI investments.
This is largely because the best places to use AI right now are in areas where there are mundane, repetitive administrative tasks like patient communication, marketing, and billing.
If you are ready to make these investments, here are the next things to think about to do it successfully.
Establish Goals
The first thing you should always do when thinking about technology investments is define what you hope to achieve.
Never invest for the sake of investing in the latest thing.

Ask what areas of your organization need improvement, and then:

Define key areas that need improvement: This may require bringing in stakeholders from across your organization. Talk to those who manage the call center, the front desk, the billing office. Are staff over-extended on the phone? Are patients asking for more options like text? Are no-shows a problem? Is collecting patient balances an issue? The list goes on and on. AI may not solve all these issues but you need to know what the challenges are before you can decide what you may be able to address with AI.

Define goals in those areas: Every time you make a process change or invest in new technology, you should be working towards a specific set of goals and metrics. How can you know if it works if you have no goals to match it against? Consider using SMART goals (Specific, Measurable, Achievable, Realistic, and Timely).

Communicate those goals to stakeholders and get buy-in: Once you decide what areas to work on and what your goals will be, communicate those out to all the stakeholders. Everyone should be clear on what you are trying to achieve before you start evaluating new solutions.

Talk to your peers: Use resources through industry groups to connect with peers and ask if they have faced similar problems or set similar goals. They may have suggestions about what you can address or how to frame goals for maximum success.
Decide Where to Apply AI
In which areas can you easily implement AI to make improvements? You can use AI now to:
Mine data and analyze it to find best practices:

One use for AI is data mining. Vendors are already using it to mine their own data. This data can be used to improve software, improve onboarding and support, and provide new insights on best practices for users. Hospitals and health systems can also mine their own data (or use software dashboards) to look for trends and patterns. The right solutions can help providers identify patterns. These patterns include things like the time of day call volume is the highest, which days are best for sending reminders, etc.

Respond to patients 24/7 with automated SMS responses, web chatbots, etc.: Other industries have been using website and phone chatbots for years. Healthcare has been slower to adopt this technology because of fears around patient privacy and ensuring that a patient in crisis can get a person. This technology has been improving and today, website, phone, and text chatbots are able to answer many common and repetitive questions and determine when to move a patient on to a real person for the human interaction they need.

Analyze patient feedback in surveys and reviews to look for patterns: This is another great area for analyzing data. It can be difficult for health systems to analyze patient sentiment manually but software can do it easily. AI can find common terms and phrases that may indicate an issue that needs to be worked on that people could easily miss.

Help improve the reminder and confirmation process: For years, software has been automating and improving the reminder and confirmation process. Now AI can take that to a whole new level. Beyond sending messages using patient preferences, software can now "learn" to accept more and more responses. It's no longer limited to C or Y for confirm or yes. Patients can respond "sure" and AI-driven messaging software can read that as a positive response. This can significantly reduce the amount of time spent following up with patients who were marked as not confirmed because they used an unusual response.

Identify potential no-shows and fill appointments: Even with the best reminder software, patients no-show. It just happens. What if there were software that could analyze patient behavior and let the organization know who is likely to no-show? Now there is. This is a great use for AI. Identifying higher risk patients means staff can do added follow up or consider double booking for certain times.

Help streamline online scheduling, online forms, and online bill pay: Like reminders and texting, AI can improve the experience for patients and staff around scheduling, check-in, and bill pay. It can be as simple as pre-filling forms for existing patients. There are many small ways that automation and a bit of AI can save time and improve accuracy.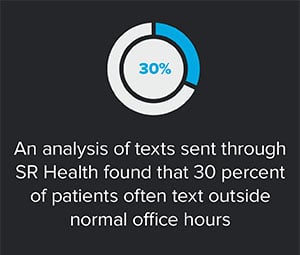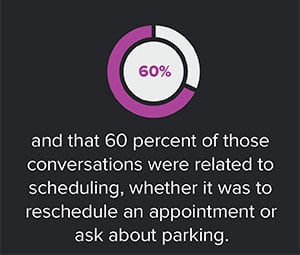 Evaluate Your Options
Many experts agree that the best early AI solutions will come from existing vendors as they enhance current products. This is less likely to be the case for legacy patient engagement and communication vendors, who are notoriously slow to innovate.
However, before you do anything else, ask your current vendors:
What AI solutions are available today in the products you use? You might be surprised. Sometimes AI is already working behind the scenes to improve the software or the vendor is using machine learning to improve processes or recommend best practices.

Do these current solutions make sense for your organization based on your goals? Just because the vendor has some AI-driven features doesn't mean they are right for you. Make sure you are using your goals as a guide for your investment choices.

What is the vendor's roadmap for AI in in the product moving forward and will those help you reach goals? Not having AI today doesn't mean it isn't coming. Be sure to ask about the roadmap for future innovation. But don't take their word for it. Some vendors may say it's coming but if you ask for details they may not be there. Ask for dates and features description and see if they are far enough along to show you something.

What is their long-term strategy around AI for their product? Beyond today's work and the short-term road map what are the long-term plans? Are they looking to the future?
Explore Other Solutions
So, will your current vendors meet your needs? If not, what should you look for in a new solution?
Does the new product match up with your defined goals? Does it have the features to meet those goals? How will it help you meet those goals? You may want to create a checklist of your goals with areas for notes about how the software addresses them.

Does the product integrate with other solutions you use? Will the software integrate with other solutions to ensure you can meet your goals? For example, reminder software should integrate with practice management and EHR software.

Will onboarding support your goals? What level of onboarding and ongoing support will you have to ensure you can make the most of your investment? Will it be set up in support of your goals? Will you get a result check in to ensure you are on track to meet those goals?

What kind of reporting and analytics are available? Are there effective tools to monitor and measure your success in meeting your goals?
AI has the potential to make a big impact in improving the patient experience and reducing the burden on staff. To get the most from an investment in AI, however, requires planning. Use the suggestions in this checklist and see the best return on your organization's investment in AI solutions.